3 Bean Salad with Creamy Mustard Dill Dressing
Enjoy this quick and easy classic favorite that
can be made up to eight hours ahead of serving.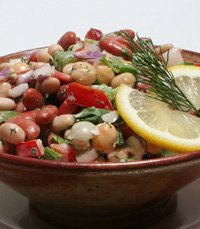 3 Bean Salad
How many three bean salads can one have? There are plenty of them around but we never get tired of them. They're healthy and tasty and full of nutrition. This particular 3 bean salad utilizes a great dressing that spices it up a little while keeping it light on fat and low on sugar!
Bean salads are some of our favorites because they not only taste great but provide a decent amount of fiber and protein as well.
This 3 bean salad is a great recipe adapted from a contribution by our friends at the AICR.
Three Bean Salad with Creamy Mustard Dill Dressing

Ingredients

1 cup canned chickpeas, rinsed and drained
1 cup canned Great Northern beans, rinsed
and drained
1 cup canned kidney or red beans, rinsed and
drained
1/2 cup finely chopped red onion
1 small red bell pepper, diced (optional)
1 small green bell pepper, diced (optional)
2 Tbsp. fat-free or 2 percent Greek yogurt
1 Tbsp. low-fat mayonnaise
1 Tbsp. coarse seed mustard
1 tsp. lemon juice
2 dashes hot pepper sauce
1/2 tsp. salt
1/4 teaspoon ground black pepper
2 tsp. extra virgin olive oil
1/2 cup chopped fresh dill
1/4 cup chopped flat-leaf parsley

How we make it

In mixing bowl, combine beans with onion and peppers,
if using.

For dressing, place in mini food processor the yogurt,
vegenaise, mustard, lemon juice, hot sauce, salt and
pepper and whirl to combine.

With the motor running, drizzle in oil.

Add dressing to beans and mix to combine.

If serving immediately, mix in dill and parsley. Or, cover
the dressed beans and refrigerate for up to 8 hours, adding
herbs just before serving.

Makes 4 servings.

Per serving:230 calories, 5 g total fat (less than 1 g saturated fat),
36 g carbohydrate, 11 g protein, 11 g dietary fiber, 390 mg
sodium

or
The opinions expressed in this website are strictly those of the authors.
Always consult your nutritionist or healthcare provider before beginning a new diet regimen.
© 2011-2012 - all-veg.com. All rights reserved.
Reproduction of any material without express written permission is strictly prohibited by law.