Garden Vegetables with Red Pepper Aioli
This is a terrific appetizer.
Sure to have your dinner guests asking for more!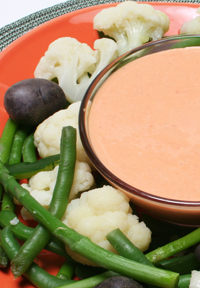 We're serving garden vegetables with red pepper aioli!

While Aioli is defined as a Provençal traditional sauce made of garlic, olive oil, lemon juice, and egg yolks, it has evolved into many forms and variations.

It is usually served at room temperature as a dip or condiment for everything from raw or cooked veggies to, depending on the ingredients, fresh fruit slices.

So this dish is not that unusual really. It dies however, make a great way to serve up some garden vegetables as appetizers. Just dip them in the red pepper aioli! Yum!

Garden Vegetables with Red Pepper Aioli
                                          contributed by the AICR

Ingredients

1 large roasted red bell pepper*
3 garlic cloves
1 can (14oz) cannellini beans, rinsed and
drained
1 tsp. salt
3 Tbsp. low fat mayonnaise
1 Tbsp. lemon juice
Pinch cayenne pepper
Ground black pepper
8 (1 1/2-inch) potatoes, or 4 (2-inch) potatoes,
preferably purple
1 medium zucchini, quartered and cut into 3-inch
sticks
1/4 pound string beans, tipped
12 asparagus spears
12 1-inch cauliflower florets

How we make it

In food processor, whirl red pepper and garlic until
finely chopped. Add beans and salt and whirl to a pulpy
puree. Add mayonnaise, lemon juice and cayenne and whirl
to blend. Season to taste with pepper. Scoop aioli into
serving bowl and set aside for 30 minutes to allow flavors
to meld or cover and refrigerate for up to 24 hours.

In medium saucepan, cover potatoes with cold water to a
depth of 2 inches and cook over medium-high heat until
potatoes are tender, 15 to 20 minutes. Drain and set aside.

Set large saucepan of water to boil over high heat. Fill a
large bowl with ice water. Cook zucchini for 1 1/2 minutes,
remove from boiling water using slotted spoon and cool squash
in ice water. Drain well. Following the same steps, and in this
order, cook string beans for 2 minutes, asparagus for 1 1/2
minutes and cauliflower for 2 minutes.

To serve, arrange vegetables around aioli serving bowl on large
platter.

*If possible, roast pepper yourself.

Preheat oven to 425 degrees F. Place seeded pepper half, cut-side
down, on oiled baking sheet and roast 20 to 30 minutes, until skin
is well-blistered. Place pepper in small bowl, cover with plastic
wrap and let sit for 20 minutes. Using fingers, remove skin. Roasted
peppers may be tightly covered and refrigerated for up to 4 days.

Makes 4 servings.

Per serving: 200 calories, 5 g total fat ( 0.5 g saturated fat),
32 g carbohydrate, 9 g protein, 8 g dietary fiber, 440 mg sodium.
or
The opinions expressed in this website are strictly those of the authors.
Always consult your nutritionist or healthcare provider before beginning a new diet regimen.
© 2011-2012 - all-veg.com. All rights reserved.
Reproduction of any material without express written permission is strictly prohibited by law.