Three-Green Soup
Take a classic winter vegetable stew; add some surprises and you have a terrific comfort food for those chilly evenings!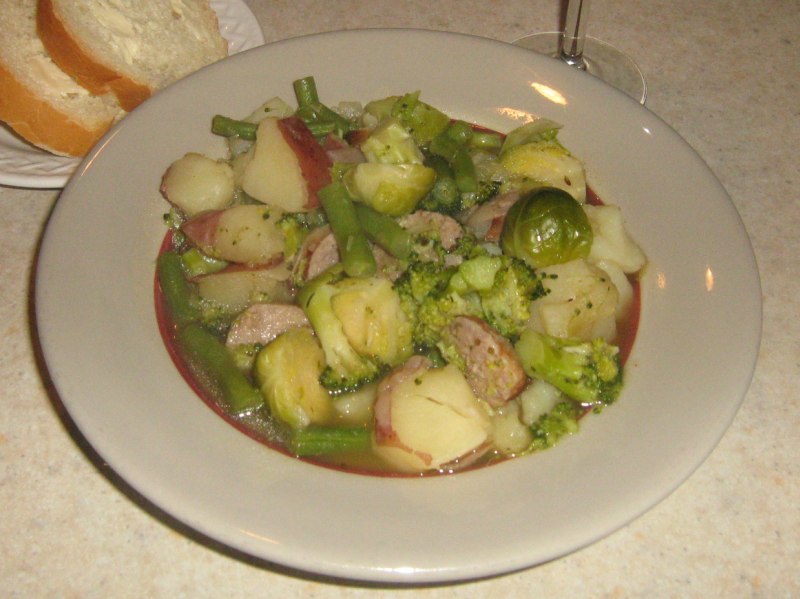 How did we come up with Three-Green Soup?

Challenged by one of our readers to create a dish that would incorporate four of her favorite foods in one dish (potatoes, brussels sprouts, broccoli and green beans), we decided that the combination was probably right for a soup or a baked casserole. We opted for the soup and turned a classic winter vegetable stew into a three-green soup that is tasty and reasonably quick.

This is a great soup with an astounding 24 grams of protein and almost 19 grams of dietary fiber!

So, if you like thick and chuncky soups or stews you're going to love the Three Green Soup!  Let us know what you think - we always like hearing from our visitors!

Three-Green Soup

Ingredients

5 medium red potatoes, washed and diced, skins on
8 to 10 brussels sprouts, halved
1 small head of broccoli cut into florettes
2 cups of green beans, cut into 1 inch pieces
1/2 large onion, coarse chopped
4 1/2 cups of low salt vegetable stock
2 teaspoons of carroway seeds
1 tablespoon of dried oregano
4 veggie Italian sausage links*, browned and sliced
sea salt and pepper to taste

How we make it

In a large Dutch oven or stock pot, bring 4 1/2 cups of vegetable stock to a boil. Add the carroway seeds, onions and potatoes. Reduce heat to a rolling simmer. Cover and cook for 10 minutes.

In the meantime, place the green beans in a steamer. Add the dried oregano and steam until tender - about 10 minutes. Brown the sausage, cool and slice.

After the potatoes have cooked for 10 minutes add the brussels sprouts and cook for another 10 minutes. Then add the broccoli florettes, the steamed green beans and oregano, and the veggie sausage. Allow to cook another 5 minutes. Test that beans are tender and adjust cooking time by a few minutes if necessary.


* You might try Field Roast or Tofurkey brands.


Makes 4 to 6 servings

Per serving: Calories 471, Calories from Fat 51, Total Fat 5.75g, Saturated Fat 1.22g, Trans Fat 0.0g, Cholesterol 4mg, Sodium 1495mg, Potassium 2030mg, Total Carbs 83.97g, Dietary Fiber 18.9g, Sugars 7.64g, Protein 24.47g


or
The opinions expressed in this website are strictly those of the authors.
Always consult your nutritionist or healthcare provider before beginning a new diet regimen.
© 2011-2012 - all-veg.com. All rights reserved.
Reproduction of any material without express written permission is strictly prohibited by law.